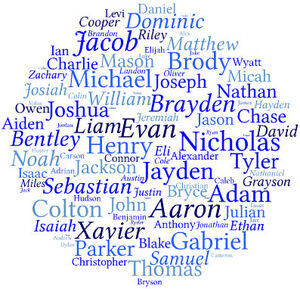 Boys Names
Edit
All name sthat are established boy names go here. If you add a name, please check to see if it has already been listed. Please put them in alphebetical order!
If you have a new spelling/variation please go to that names specific page and add it to the Variations section. Please use an "," to differentiate. (Ex: Thomas,Tomas)
Small Note: Not all of these names have their own pages yet, which is why this list is seperate from the actual Category, Boys. Please feel free to add names or pages to help complete the Wikia!
Aaron, Adam, Adrian, Aiden, Alec, Alexander , Andrew, Anthony, Austin
Benjamin , Bentley, Bill, Blake, Brandon, Brayden, Brody, Bryson
Caleb, Callum, Calvin, Cameron, Carlos, Carson, Carter, Castiel, Charles, Chase, Christian, Christopher, Claude, Clay, Cole, Colton, Connor, Cooper,
Daniel, David, Dean , Diego, Dominic, Dylan
Easton, Eli, Elias, Elijah, Elvis, Eric, Ethan, Evan
Felix, Finnian, Fisher, Forrest, Fox, Frederic
Gabriel, Gage, Gavin, George, Gideon, Graydon, Grayson
Hayden, Hayes, Henry, Horatio, Hunter
Ian, Ignatius, Isaac, Isaiah
Jack, Jackson, Jace, Jacob , James, Jason, Jasper, Jayden, Jeremiah, Jeremy, Jesus, Joey, John, Jonathan, Jordan, Jose, Joseph, Joshua, Josiah, Juan, Julian, Justin
Keiser, Keith, Kellen, Kevin, Kiernan, Kyle, Kyler
Landon, Lawrence, Levi, Liam, Logan, Loran/Loren, Louis, Lucas, Luke, Lyle
Marcus, Mason, Mateo, Matthew, Max, Maximus, Maxwell, Michael, Montague,
Nash, Nathen, Nathaniel, Nicholas, Noah, Nolan
Oliver, Oscar, Owen
Parker, Paul, Patrick, Peter, Phillip
Quince, Quincy, Quinten
Randall, Reid, Robert, Roman, Ronan, Rosario, Rupert, Ryan,
Samuel, Sebastian, Seth, Solomon, Stephen
Ulysses, Ulrich
Vance, Victor, Vince, Vincent
Wayne, William, Wyatt
Xavier, Xander
Yale, York, Yves
Zachariah, Zachary,
Ad blocker interference detected!
Wikia is a free-to-use site that makes money from advertising. We have a modified experience for viewers using ad blockers

Wikia is not accessible if you've made further modifications. Remove the custom ad blocker rule(s) and the page will load as expected.