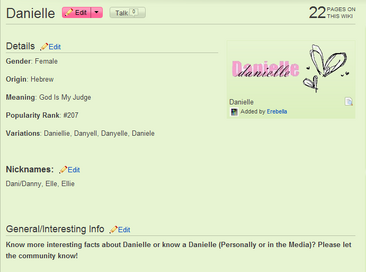 To create a page for a name please follow these simple rules and guides to keep everything simple and less confusing!
Step 1. Click the Contribute button and select New Page and give the new page a Title (Ex. Jonathan or Ariana) and keep Standard Layout selected and click Add Page.
Step 2. Add the content of the page, but please keep it in the standard Format I have used! An Example is shown below.
Use This Format!Edit
Gender:
Origin:
Meaning:
Popularity Rank: #
Variations:
Nicknames: *Edit
Name It Can Be A Nickname For: *Edit
General/Interesting Info
Edit
Know more interesting facts about ----- or know a ------ (Personally or in the Media)? Please let the community know!
-----------End Format Example-------------
NOTE! If it is Headed, Bolded or Italicized in the Example that is must be done on the page your adding! Please abide by this! There is no excuse! Pictures are great, but are not required.
*= Only if applaciable.
Step 3. Add applaciable Categories! This can be done of the Editing page or at the bottom of a finished page!
Step 4. Click the Publish button! (But ONLY if you are sure it is done correctly!)
If there are any questions please post them in this page's Talk Page or on my own talk page. Thank you. Rainbow~Pariah (talk) 23:52, August 7, 2012 (UTC)
Ad blocker interference detected!
Wikia is a free-to-use site that makes money from advertising. We have a modified experience for viewers using ad blockers

Wikia is not accessible if you've made further modifications. Remove the custom ad blocker rule(s) and the page will load as expected.